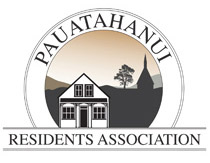 Roading
Pāuatahanui Road Map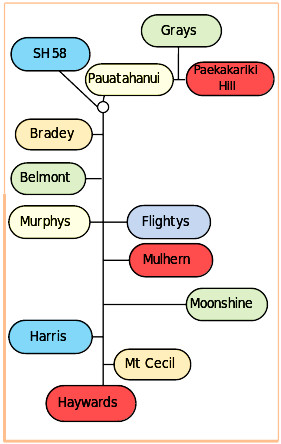 Reporting
Road issues can include potholes, slips, debris (major or minor), blocked water tables or sumps, and fallen trees. Moving around rural roads with caution is always advised, especially in winter or after bad weather - anything could be around the corner.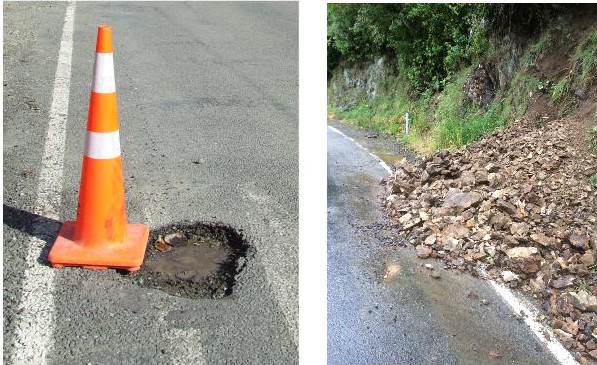 Roading issues can be reported to Porirua City Council by
Phone 04 237 5089

Antenno

-

The advantage of using Antenno is that it enables a photo and a map point to be included in the report.
Once a report has been made there are time frames within which the Council is expected to respond
Slips – 4 Hours

Debris – 4 Hours

Potholes – 5 Days

Fly tipping - 24 hour initial response but may take longer to remove if it is a major dumping
After a report has been received, Council representatives will visit the site and make an assessment. Based on this assessment the issue will be given a priority rating which will determine whether immediate remedial action is taken or whether it will be addressed through routine maintenance.
Note: Porirua City Council has responsibility for our local roads but State Highway 58 is under the jurisdiction of Waka Kotahi NZ Transport Agency (NZTA) and any concerns for SH58 need to be reported to Waka Kotahi on 0800 4 HIGHWAYS (0800 44 44 49)
Fly tipping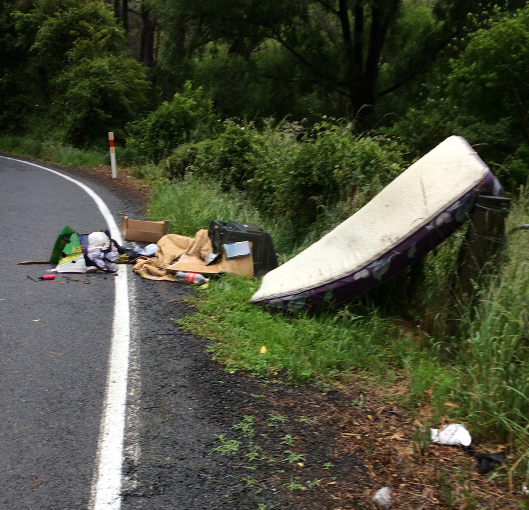 Fly tipping is the dumping of rubbish and can be a problem in some areas of rural roads.
If it is dumped on the roadside contact Porirua City Council who are responsible for clearing it. The time frame for clearance is 5 working days.
If rubbish is dumped in a stream it is the responsibility of the Regional Council so is reported using the Environmental Hotline tel:0800496734

Unfortunately if rubbish is dumped over a fence onto private property it does become the responsibility of the landowner. Note, whilst it is tempting for a landowner to move it onto the roadside and report it for Council to clear, they may be prosecuted for putting it on the roadside even if not the original dumper.

Road reserve
The legal road corridor across most of the rural area is 20 metres wide. The formed portion of the road will (with a few exceptions) sit within this corridor but is not necessarily in the middle of the the legal road corridor..
Likewise, any road fence may, or may not, be on the legal boundary between any property and the legal road.
The road reserve is the strip of land between a property's front boundary and the existing formed road. The road reserve belongs to the Council and Council permission is needed if any changes are going to be made within the area of the legal road, including within the road reserve. The PCC Tree and Vegetation Policy specifies:
"The planting and management of trees and vegetation road reserve shall not occur without Council approval and supervision". PCC may therefore remove anything planted on the road reserve without notifying neighbours, whether planted deliberately or not.
If work is needed within the road corridor (such as large scale traffic movements in and out of a property, or rebuilding drains or a gateway using heavy machinery) landowners may be required to submit a traffic management plan. Apply for a permit - Road works
Any private access or driveway that crosses Council owned road reserve is the responsibility of the property owner to maintain.
Paper roads
'Paper roads' is the term commonly used to refer to Unformed Legal Roads (ULR). A ULR is a parcel of land that has been legally designated as a road even if it is not marked, has not been pegged out on the ground, and is not formed in any way. As such, ULRs are no different in law from formed roads. Almost all ULRs have a nominal width of 20 metres and the public have the right to use them on foot, on horse, or in vehicles without hindrance from the adjoining landholder or anyone else. The use of the land by adjoining landholders does not affect the legal right of the public to use the roads and does not create any legal right to the road by the adjoining landholder.
However, ULRs may be unsuitable for vehicle use and even for walking because of the topography that they traverse. In practice, many ULRs are traversed by farm fences and may have trees, hedges or even buildings on them which sometimes presents problems when the public wishes to use the ULR. Responsibility for administering ULRs lies with the relevant territorial authority (a district or city council). Some ULRs are difficult to identify on maps or hard to locate on the ground because of a lack of signage but landowners need to be aware if there is a ULR adjoining or through their property and understand the implications of the ULR.
More information is available on the Walking Access website including maps showing ULRs
WAMS - https://maps.walkingaccess.govt.nz/OurMaps/