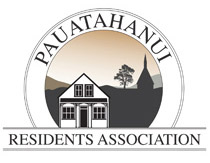 Media Release
Pauatahanui Residents Association
NATIONAL AWARD FOR PAUATAHANUI BURIAL GROUND ROSES
A passion for heritage roses has led to national recognition for a Porirua woman and the rose collection she has helped nurture for 23 years at the Pauatahanui Burial Ground in Porirua City.
The roses at the Porirua City Council managed burial ground were officially recognised at 4.30pm on Friday 5 December as a "nationally significant planting of historic roses" by Heritage Roses New Zealand.
Project co-ordinator Rosemary Patterson, who began the restoration with four other local women 23 years ago, and Porirua Mayor Nick Leggett were on hand to receive the award and citation from Heritage Roses New Zealand President Sally Allison.
"It's great to see Rosemary and her group of passionate volunteers recognised for the work they have put into developing the heritage rose collection at the burial ground. Through their hard work, they've created a nationally recognised site that we can all be proud of," says Mayor Nick Leggett.
Rosemary is really pleased the work of the volunteers and the heritage rose collection are to receive the prestigious award, which is given just once every three years.
"When we started to clear the overgrown burial ground we were inspired by the old roses at Bolton Street Memorial Park in Wellington. I am very pleased that the burial ground roses have at last received official recognition after the efforts put in by so many people over the years to build a notable collection for future generations to enjoy."
The burial ground boasts 115 varieties of roses across 181 rose bushes, which commemorate some of Porirua's early inhabitants and the hardships they endured.
The burial ground was nominated for the award by Judith Soja, a member of Heritage Roses New Zealand, to recognise the rose collection, acknowledge the vision and work of Rosemary and her volunteers, as well as the Council's on-going commitment and contribution to the preservation of the burial ground and the rose collection.
The Burial Ground is open to the public free of charge every day of the year.
See Heritage Roses for more information or view the History & Heritage Roses brochure.
Press release 3 December 2014