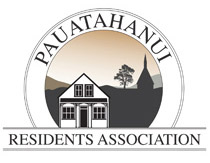 GroundUp Cafe Retrospective Resource Consent
The retrospective resource consent for the GroundUp Café was granted with a number of conditions to be met.
The hearing for the resource consent application from Darryl Ellis of GroundUp Café in the Village was held in November 2014. It was adjourned while legal opinions were sought over the ability of the Café to legally meet any parking requirements that could be imposed as part of the consent with the Commissioner's decision released in January 2015. A copy of the Commissioner's decision can be viewed here.
The granting of the consent application will enable Mr Ellis to retrospectively legalise a 50 m² extension constructed at the rear of the café together with a new dining area and additional structures, and to increase the maximum number of seated patrons from 35 to a new total of 65.
PRA was approached by individuals in the community concerned about the effects of the proposal. As a result PRA sought further feedback from the Pauatahanui community on the merits or otherwise of this proposal, before submitting a response to the consent application.